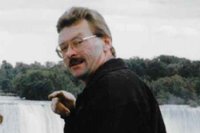 Mike Arnold
Arnold, Michael (Mike) – of Barrie, Ontario aged 64, passed away suddenly on Friday, March 30, 2018 at Royal Victoria Hospital in Barrie. Mike was born in High River, Alberta on September 22, 1953, son of the late Gordon and Marian Arnold (Moncrieff). Mike was predeceased by his partner and confidant of 30 years, LouLou. Mike was the father of Jenifer Lee Harrison (Tim). He is predeceased by his sister Sheila May Snider (Arnold), survived by Elizabeth (Betty) Wathen, Gordon (Doug) Arnold, Alexander (George) Arnold and Karen (the Kid) Arnold.
Mike enjoyed a keen game of pinochle and it was rumored that his South Dakota pinochle rules were ever changing depending on the game. Mike was very good with computers and was a great resource to fix technical problems.
Cremation has taken place and a celebration of life will follow at a later date.
In lieu of flowers, donations may be made to a charity of your choice.