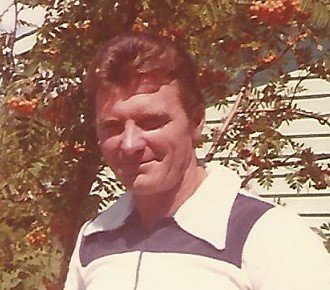 Obituary of Bill Sydney
SYDNEY, William Richard Frederick (Bill) August 12, 1933 to July 28, 2017
Bill Sydney passed away peacefully at Orillia Soldiers' Memorial Hospital on Friday July 28, 2017 with his daughter, Susan, by his side after 10 days in hospital surrounded by family and friends. Born in Orillia, Bill was the son of Frank Sydney (born William S R Tomblin) of England and Petronella M Koning of The Netherlands. Bill adored his sisters Barbara Neidrauer (Mervyn pre deceased), Sylvia Malec pre deceased, Joan Rolland pre deceased (John). Beloved husband for 24 years of the late Ruth (nee Smith), and beloved former husband of Llewella (nee Mercer) for 24 years. Loving father of William pre deceased (Marilyn), Sandra Bernier (Roland), Rick, Susan Banack, Lorelei, Robin (Jacqlyn); loving step-father of Shelley Orr (Gregory). Cherished grandfather to Chellee (John), Scott (Alice), Marlene, William, Cheryl, Erin (Matt), Allison, Alleesha, Jessica, Justin, Adam, Brienna, Brittanie, Brennan, Brandie, Ashley, Joseph, and Jessica. Adored by his great grandchildren Kathryn, Andrew, Alexis, Sydney, Emily, Nathan, William, Hunter, Levi, Luke, (Vienna to be born this fall), Taylor, Landon, and Jude. Bill was pre deceased by his nephews Kim Neidrauer and Tim Rolland and his niece Jennifer Rolland and will be sadly missed by his many other nieces and nephews.
Bill was a wonderful son, brother, husband, uncle, father, grandfather, great-grandfather, and friend. He will be remembered for his great sense of humour, kindness, and generosity. Bill lived his life as an outdoorsman, always loved living off the land and being close to nature. He started caring for animals at young age. He had a pet fox, named Woof, when he was about 12 years old, and he was still leaving out food for feral cats until his final days. He spent many his days fishing, hunting, trapping, cutting trees, building homes to help provide for his family and stay true to his passions. He worked, planted, and weeded a garden no matter where he was living. He was usually the first one up making oatmeal porridge, bacon and eggs, or pancakes to make sure no one left for work or school hungry. He worked as a park ranger and for many years on the line for Hydro. With guidance from friends, he built a family home in 1967, a small brick house that still stands 50 years later. He accepted help from his children to do small tasks that made them feel part of the dream coming to life. He made many friends along the way, and some have passed before him. When he wasn't working, he would watch an old western or watch a hockey game.
He fought a good fight, and in the end, Heaven always wins the good ones. There will be dozens of open arms waiting for him when he reaches the other side.
A celebration of Bill's life, with a gathering of family and friends, will be held at Simcoe Funeral Home at 38 James Street East in Orillia, on what would have been his 84th birthday, Saturday August 12, 2017 at 11:00am to 1:00pm.
As an expression of sympathy, memorial donations may be made to the charity of your choice. Messages of condolence are welcomed at www.simcoefuneralhome.ca