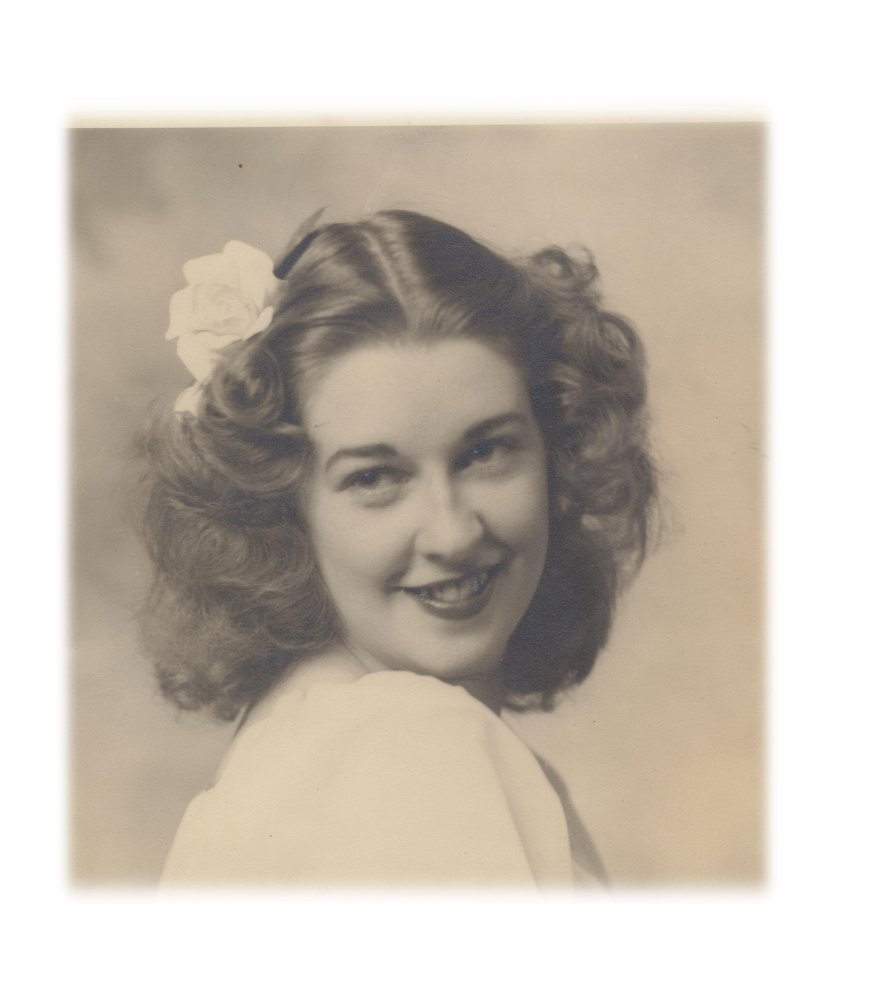 Obituary of Mary Ellen Day
Day, Mary Ellen
Dec. 6 1924 - March 30th, 2017
Surrounded and celebrated by her family as she took her last proud breath to Vera Lynn's "I'll Be Seeing You", Mary Ellen Day (nee Robinson) left us on Thursday March 30th at Victoria House in Orillia.
A force of life, love of family and laughter, Mary Ellen was in her 93rd year, living the final 12 happily in her home of 54 years after her adoring husband of 58 years, Grant Day, died in 2005.
She will always be held proudly and preciously in the hearts of her two sons and their families; Jeff, Barbara and Alex Day of Burlington and Brad, Lisa, Angela and Brandon Day, of Orillia.
How do you describe the most influential homemaker of all time? Although our beloved mom worked at home, she was able to influence everyone she met. In the early days, it was hockey games and booster clubs. When the bar closed, the whole Orillia Terriers team went to the Day's house. Tossing parties that were so much fun, the music and noise caused Rynard farm cows to break out and end up on the front lawn. Guitars, grass skirts and ukuleles were often necessities. Family get-togethers meant music, laughter, drinks and always telling stories. Oh yes, and her beloved KFC, as she thought cooking was highly over rated. (It wasn't).
She could calm the most upset person and make anyone/everyone laugh. She was a true Lucille Ball. Going to the casino meant many stops as she would joke and have fun with all the staff and patrons. The staff sought her out as she
would brighten their day. Although she loved hitting a jackpot, winning to her
was having fun with all the people who were there. She loved singing in the casino or anywhere, actually.
Fiercely Irish and proud of it, she always stood up for herself and her family. Her family was her treasure and nobody was prouder or more protective of it then her. Her boys were her life and soul. She delighted in everything they did and accomplished. Her eyes sparkled when she was able to make them have a deep belly laugh.
When the grandchildren came along she lit up every time they came into the room. Teaching them poker as young as 3 years old---"my grandchildren will be keeping their clothes on"—she created such an atmosphere full of love, care, laughter, singing and dancing that her grandchildren brought their friends along to enjoy their "fun gramma." Mary Ellen knew what was important.
Mary Ellen loved to dance, especially to Glenn Miller. If you didn't know how to dance, no problem, she led anyway. Mary Ellen loved to smoke offering them to anyone and everyone hoping they would join her. She drank socially ("as you should never drink alone"), ate whatever she felt like (most of it was not on any nutritional chart) and never exercised. She loved her pets. She was a talented artist/painter. Played piano by ear. Did a crossword and pontificated in her journal daily. And, of course, never missed figure skating, Wheel of Fortune, Jeopardy or any CFL football game that involved her beloved Hamilton Tiger Cats. "Oskee Wee Wee!!!
She always cheated in cards because, "Being a bit bad is what makes life fun." She was singing, teasing and flirting with her doctor, the great staff at Victoria House and ambulance attendants right up to the moment when she began her final journey Tuesday afternoon.
A special thank you to Dr. Tillmann for all the medical and emotional support, to Helping Hands who were instrumental in ensuring she could stay in her home to the age of 92. All the staff at Victoria House for supporting our family and giving us a peaceful place for her end of life care. Lastly to all the nurses/staff at Orillia Soldiers' Memorial Hospital for giving such care and guiding us with all her care, and to all the friends who visited her in the hospital.
In lieu of flowers, our mother asked only that anyone reading this and remembering her do something special today to show your family how much you love them.
Family and friends are invited to drop by her home on Saturday April 8th, from 2 to 6 p.m. to celebrate her life with a traditional wake.
Messages of condolence are welcomed at www.simcoefuneralhome.ca